Four Corners: Stå i fire stater på én gang
Hvis det ikke lige var fordi, at grænserne mellem Arizona, Colorado, New Mexico og Utah tilfældigvis mødes på netop dette punkt midt ude i ingenting, ville dette stykke ørken ikke have fået nogen som helst opmærksomhed. Men nu er Four Corners tilfældigvis det eneste sted i USA, hvor fire delstater støder op til hinanden, og det skal naturligvis markeres. Four Corners i det vestlige USA er dermed det eneste sted i USA, hvor du kan stå med fødderne plantet i fire forskellige stater – på én gang.
Hoteller i Kayenta, Arizona vest for Four Corners
Hoteller i Cortez, Colorado nordøst for Four Corners
Fakta om Four Corners Monument:
Åbningstider: 8.00 til 19.00 (maj-september) 8.00-17.00 (resten af året)
Entré: 3 dollars pr. person (husk kontankter, man tager IKKE kreditkort)
National Park Pass: Kan ikke benyttes
Four Corners Monument administrers af Navajo Nation Tribal Parks
Geologisk særpræg: Flad ørken, geologisk ikke specielt interessant sted
Geografisk placering: Grænsen ml. Arizona, Colorado, New Mexico, Utah
Kort med Four Corners Monument på Google Maps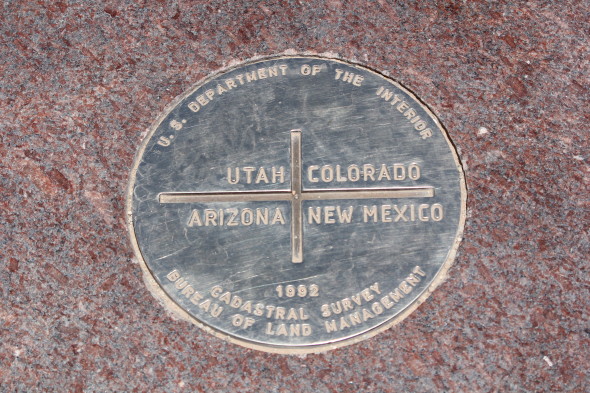 Navajo indianernes territorium
Four Corners Monument ligger delvist på Navajo indianernes territorium (ligesom Monument Valley gør det), og derfor er det The Navajo Nation, der vedligeholder monumentet – og som opkræver entrégebyret for at komme ind til monumentet (3 dollars pr. person i 2012).
Trods manglen på naturskønhed og sin afsides beliggenhed er Four Corners lidt at et tilløbsstykke. Og du skal være hurtig på kameraaftrækkeren for at få et foto af dig selv stående i de fire stater på en gang.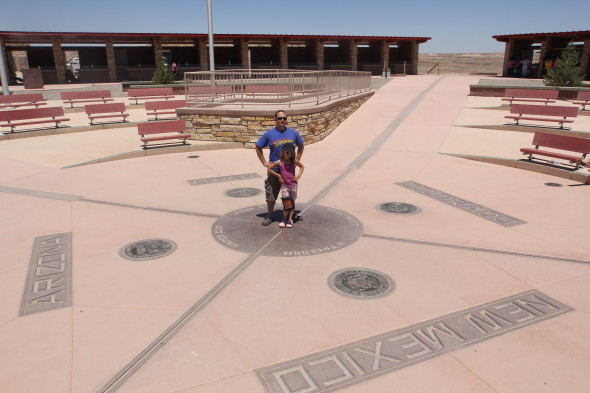 Four Corners blev renoveret i 2010, og det har hjulpet en del på monumentet, at omgivelserne nu er blevet mere stilrene. Blandt andet er der opført nye boder til de mange lokale indianere, der står og sælger kunsthåndværk og andet tingel tangel rundt om monumentet. Tidligere lignede Four Corners mere en bazar og en handelsplads end et monument. Men det har den seneste renovering gjort op med. Selve centerpunktet er markeret med en lille rund metalplade med de fire staters navne ingraveret – omgivet af nye granit fliser.
Der er kun åbent i dagtimerne
Selve parkeringspladsen ved monumentet ligger i øvrigt i New Mexico, selvom New Mexico ikke er markeret som stat på den nærliggende highway U.S. 160, da man næsten kører direkte fra Arizona og ind i Colorado. Det er kun et par hundrede meter på hovedvejen, man faktisk befinder sig i New Mexico.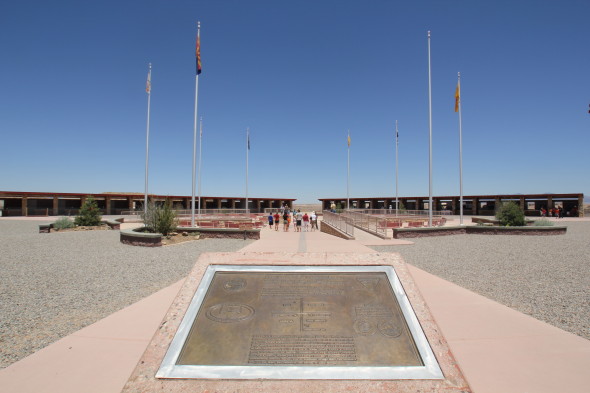 Four Corners Monument er åbent fra kl. 08.00 til kl. 19.00 i højsæsonen (fra maj til om med september). Resten af året er Four Corners Monument kun åbent fra kl. 08.00 til kl. 17.00. Husk i øvrigt kontanter – du kan ikke betale med kreditkort ved billetlugen. Uden for åbningstiden er vejen ind til Four Corners Monument spærret med en stor gitterlåge, så du kan ikke – som tidligere – snige dig ind til monumentet uden for almindelig åbningstid.
De nærmeste byer med mulighed for overnatning er Cortez i Colorado 64 kilometer mod nordøst og den lille flække Kayenta i Arizona 122 kilometer mod vest.
Hoteller i Kayenta, Arizona vest for Four Corners
Hoteller i Cortez, Colorado nordøst for Four Corners
www.navajonationparks.org – Navajo Nation Tribal Park's officielle guide til Four Corners Monument
Af Henrik Lange, Highways-USA.com